This NON-AUCTION DEAL feature ULTRA LOW TEMPERATURE FREEZERS (-40℃~-86 ℃) from world renowned supplier BIOBASE GROUP. These ULTRA LOW TEMPERATURE FREEZERS (Models BDF-86V338, BDF-86V408 and BDF-86V588 - Engage here for images) are suitable for research institutions, disease prevention and control, biological engineering, hospitals, blood stations, ocean fisheries and electronic chemical industries.
It can be used to store red blood cells, white blood cells, skin, bones, bacteria, viruses, semen, biological products, ocean products, etc., as well as low temperature tests for electronic devices and special materials.
BRAND: BIOBASE
MODELS: BDF-86V338 | BDF-86V408 | BDF-86V588
TEMPERATURE RANGE: -40℃~-86 ℃
CAPACITY OF EACH MODEL : BDF-86V338 -- 338 L | BDF-86V408 -- 408 L | BDF-86V588 -- 588 L
NOTE: FreeWorldImports will endeavor to effect shipment of these units within three (3) business days after payment is made. Please email us to learn more about this product to include pricing and other related information.
We welcome your order for this product and other LABORATORY EQUIPMENTS that is being provided by this supplier. Please take a moment to view the video that relate to the Model : BDF-86V338 ultra low temperature freezer. (BY ENGAGING THE IMAGE HYPERLINK BELOW)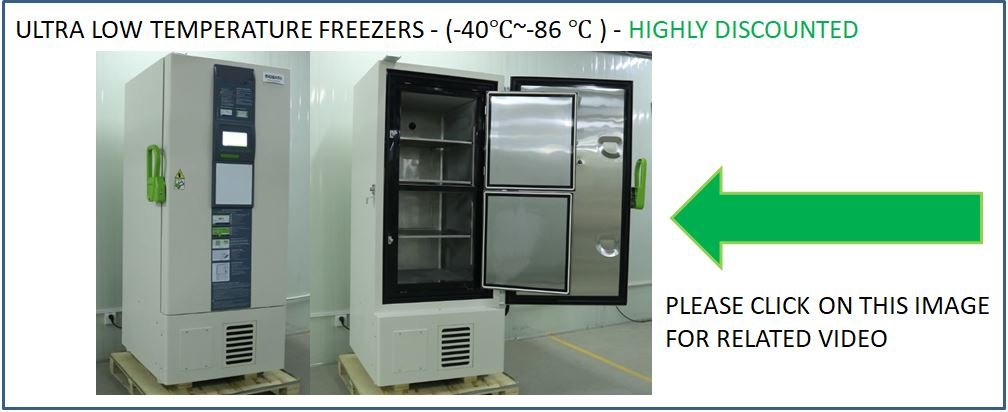 ENGAGE HERE FOR ADDITIONAL INFORMATION TO INCLUDE IMAGES | PICTURES
In addition we offer a line of fully equipped MOBILE PCR LABORATORIES which meets the requirements of the enhanced medical BSL-2 laboratory. These LABORATORES are fully integrated with water, electricity, HVAC and other equipment,and are equipped with the necessary instruments for the required field activity. Please engage the image hyperlink below for video presentation related to these laboratories. You can also email us for pricing and other related information.


ENGAGE HERE FOR ADDITIONAL INFORMATION TO INCLUDE IMAGES | PICTURES
This is a NON-AUCTION listing. Interested parties are encouraged to email us with their requirements and for additional information. In addition, please engage the image hyperlinks below to learn more about other FREEWORLD INVENTORY LIQUIDATION SERVICES offerings:
BE GRATEFUL SITE-WIDE SALE EVENT - (Click on the image hyperlink below to learn more)

BRANDED STOCK BELOW WHOLESALE - (CLOTHING) - (Click on the image hyperlink below to learn more)


NEW ARRIVALS PRODUCTS ARE BEING ADDED DAILY - (Click on the image hyperlink below to learn more)


FREEWORLDIMPORTS ANTI-COVID-19 PRODUCTS-WE MUST LIQUIDATE - (Click on the image hyperlink below to learn more)


FREEWORLD COMMODITES - (NICKEL, Cu, Mg, Al, RHODIUM etc..) - (Click on the image hyperlink below to learn more)


FWI QUARTERLY NON-AUCTION SALE EVENT- (Click on the image hyperlink below to learn more)